The best dispensary in Bremerton, WA offering
Cannabis for Your Lifestyle
TOP SHELF DISPENSARY EXPERIENCE SINCE 2016

* FRIENDLY KNOWLEDGEABLE STAFF WHO CARE & LISTEN TO YOU

* ONLINE ORDERING AVAILABLE 

* AWESOME DAILY DEALS & DISCOUNTS

* A GREAT SELECTION OF CANNABIS FOR YOUR LIFESTYLE FROM BUDGET FRIENDLY TO TOP SHELF

* OUR "FAMOUS" WALL o' JOINTS WITH OVER 100+ PREROLL OPTIONS TO CHOOSE FROM
BUDEEZ REWARDS

* SIGN UP TO EARN REWARDS EACH TIME YOU VISIT!

* ENJOY 20% OFF* YOUR 1st PURCHASE

* SAVE 20% OFF* YOUR 10th PURCHASE

* STAY IN TOUCH TO RECEIVE EXCLUSIVE MEMBER BENEFITS 

(*not valid on sale items. cannot combine w/ other disc. hi-wire app req)
WHY BUDEEZ?

* LOCAL SHOP DEDICATED TO EXCELLENT CUSTOMER SERVICE

* SPECIALIZED CUSTOMER-DRIVEN APPROACH TO PROVIDE THE ULTIMATE DISPENSARY EXPERIENCE

* HIGH QUALITY CANNABIS PRODUCTS FOR EVERY BUDGET AT EVERYDAY FAIR PRICES

* PET-FRIENDLY! WE LOVE TO MEET YOUR FURRY FRIEND

* CLEAN WELCOMING VIBES! HOW CAN WE HELP YOU TODAY?

 
FULL SERVICE CANNABIS DISPENSARY

* WA STATE AUTHORIZED CANNABIS RETAILER

* WE OFFER BOTH RECREATIONAL AND MEDICAL MARIJUANA PRODUCTS

* WE HAVE A MEDICAL MARIJUANA CONSULTANT ON STAFF

* MMJ CARDS AVAILABLE (by appt only)

* WE OFFER A LARGE ASSORTMENT OF GLASS, DAB RIGS, E-NAILS, PAPERS & OTHER CANNABIS ACCESSORIES 
ONLINE ORDERING
AVAILABLE
Skip the line and order online! Enjoy 20% OFF* when you place a pickup order online through our Leafly ordering system!
 (*excluding sale items. cannot combine with other discounts. Leafly.com order required)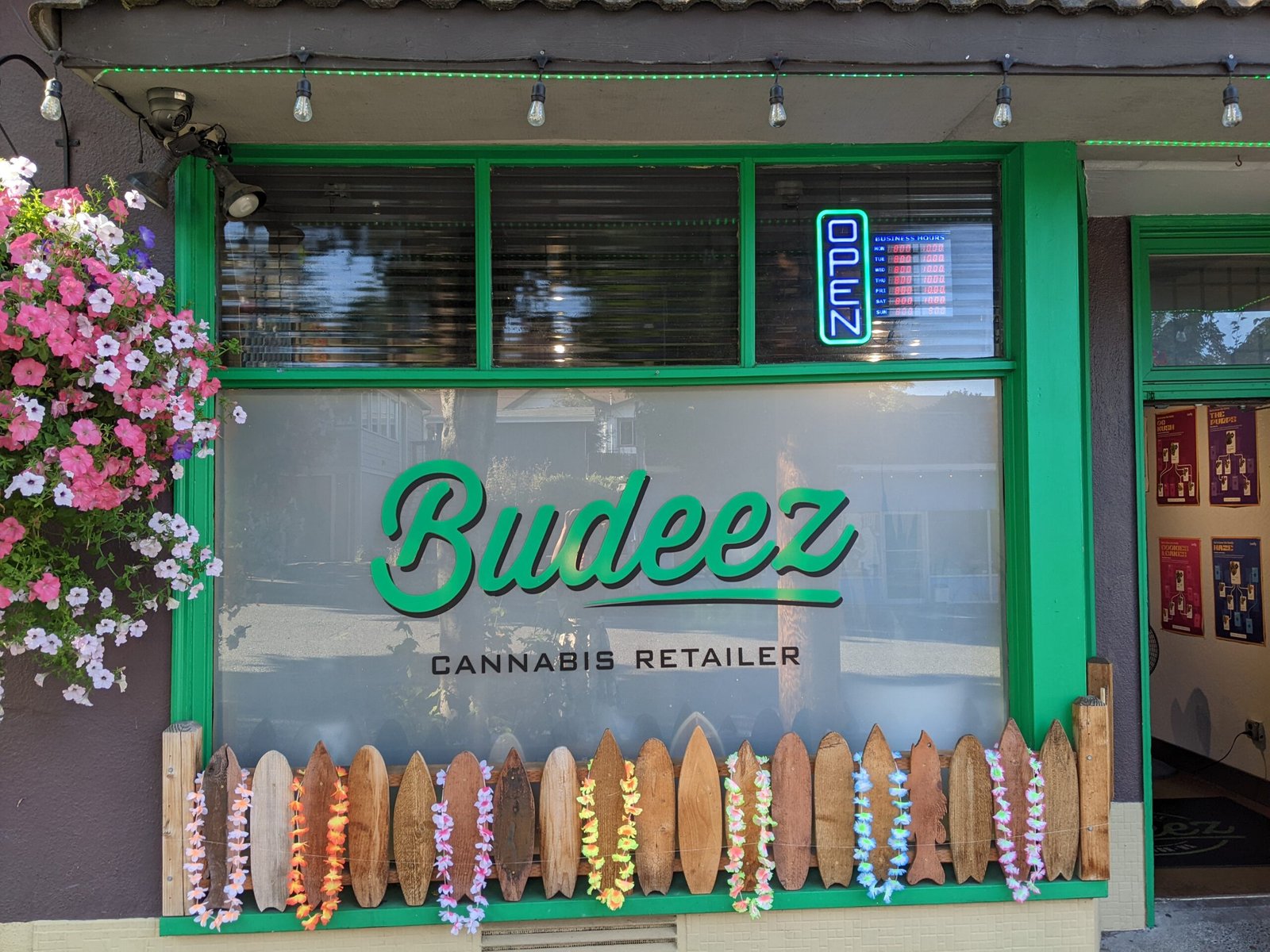 DAILY DEALS
**NEW** HAPPY HOLIDAZE! ENJOY 30% OFF* YOUR PURCHASE AS OUR WAY OF SAYING THANKS FOR YOUR SUPPORT! (*exc sale)
~~~~~~~~~~~~~~~~~~~~~~~~
**HAPPY HOUR** 20% OFF* YOUR ORDER  WEEKDAYS  8am - 12:00pm & 9pm - 10pm
**MON** 30% OFF* ALL GLASS & 20% OFF* CUSTOMERS AGES 60+ 
**TUES** 15% OFF* ALL FLOWER 3.5g & UP
**WEDS** 15% OFF* ALL CONCENTRATES, RSO & VAPE
**THURS** 15% OFF ALL JOINTS & INFUSED PREROLLS
**FRI** 15% OFF* ALL EDIBLES
**SAT** PLAY TO WIN UP TO 25% OFF* 
**SUN** 20% OFF* YOUR ORDER
(*not valid on sale items. cannot combine disc)
DAILY DISCOUNTS & REWARDS
15% OFF* VETERANS DISCOUNT
15% OFF* BIRTHDAY DISCOUNT (on your special day!)
20% OFF* ONLINE ORDER DISCOUNT (valid only thru our Leafly online ordering platform)
20% OFF* Budeez Rewards - enjoy 20% OFF* your 1st visit, 20% OFF* your 10th visit + exclusive member discounts! (hi-wire app req)
*all discounts exclude sale items. cannot combine w/ other discounts.
REQUIRED DISCLAIMER: This product has intoxicating effects and may be habit forming. Cannabis can impair concentration, coordination, and judgment. Do not operate a vehicle or machinery under the influence of this product. There may be health risks associated with this product. For use only by adults 21 years or older. Keep out of reach of children.
STORE HOURS: MONDAY - FRIDAY 8AM - 10PM & SUNDAYS 8AM - 9PM
** ALL TAXES ARE INCLUDED IN PRICES **